Honeywell Process Solutions, Houston, TX, recently announced that the company has added Operator Advisor to its Experion Highly Augmented Lookahead Operations (HALO) suite. The new software solution uses machine-learning-powered analytics to gather insights from enterprise-data sources, such as distributed control systems, then funnels those insights into dashboards. The dashboards, in turn, can provide managers and supervisors with a clear and complete view of operator performance and improvement opportunities.
---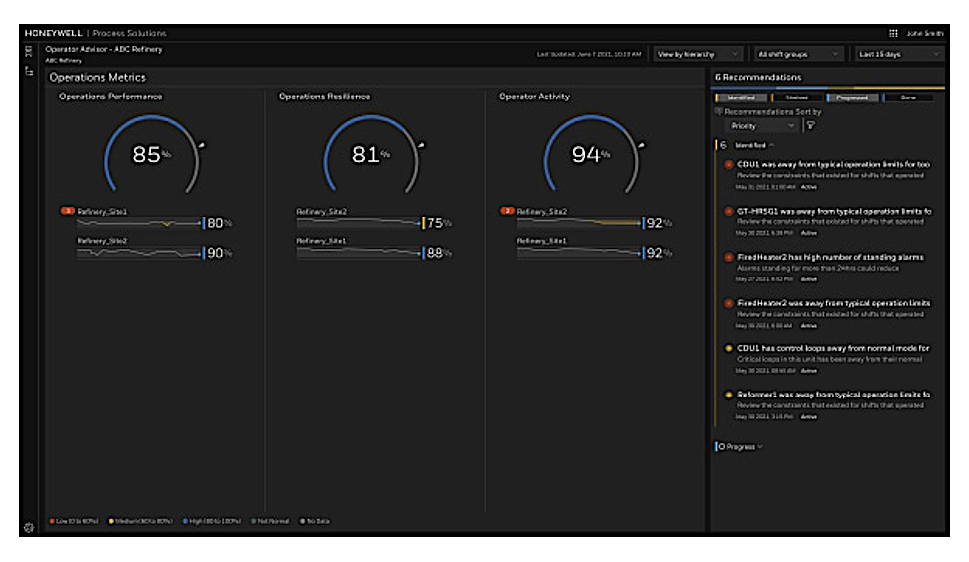 Enterprise-wide dashboard view of overall operator performance from
Honeywell Operator Advisor.
---
According to the company, by understanding how operator actions, inactions, and workload levels contribute to optimal production, end-user organizations will be able to develop targeted training programs, make strides toward autonomous operations, and build process resilience, all of which can help them better compete in the digital age.
Honeywell's data has revealed the Operator Advisor offering can have a substantial impact on plant operations. Among other things, the company notes that potential benefits include the reduction of 75% of incidents and human errors, leading to the recovery of $1.5 million annually per plant of production loss, due to worker performance; a $2 million annual reduction in operational costs by optimizing worker productivity and training and advancing toward full autonomous plant operation; a $1.3 million annual savings in headcount through optimized production; and a $1-million savings in annual maintenance costs through improved equipment reliability.
Operator Advisor will be available in October 2021.
Click Here to Visit Honeywell Process Solutions
Click Here to Read/Download the HALO Operator Advisor Service Note