The first article in this short series on precision parts (March 21, 2021) discussed the topic of designing for reliability (see link below). Here in Part II, the focus is on the rebuild process. Figure 1 illustrates the process flow I recommend for management of rebuilt parts and components in a plant.
---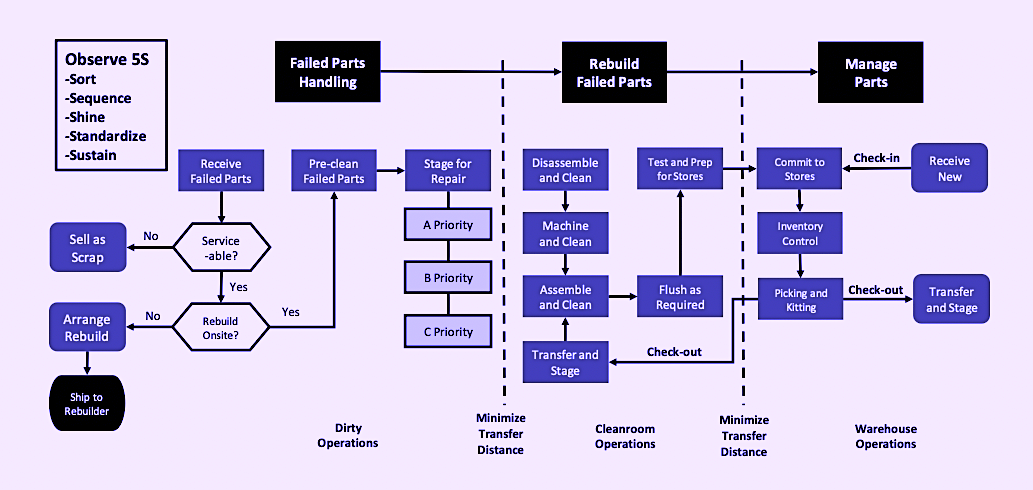 Fig. 1. Process flow for the rebuild of failed parts and components.
---
The process of managing rebuilt parts and components has three basic elements. We must 1) handle the failed items; 2) complete the rebuild of these items; and 3) of course, manage the rebuilt items effectively. Failure to apply precision at any stage in the process compromises the reliability of the parts and components, which, by extension, compromises the reliability of our assets and production processes. Let's explore each of these elements in more detail.
---

Click Here To Read Part I Of This Short Series
---
HANDLING FAILED PARTS/COMPONENTS
I prefer to geographically separate the handling of failed parts and components from the actual rebuild processes. That's because handing failed parts and components is a dirty process, whereas rebuilding them is, or should be, a clean process. Too often, I see the disassembly and reassembly being conducted in the same workshop, with no buffers or barriers. This allows dirt, dust, and grime to waft from dirty parts and components to clean ones. This type of situation compromises our precision goal of contamination control. Thus, I suggest that you set aside an area for the dirty operations of the rebuild process.
Once a failed part or component is received, we must decide if it's a suitable candidate for rebuild. If not, send it to the bone yard or, even better, stage the material to be sold as scrap and picked up by your contracted scrap handler. If the component is deemed suitable for rebuild, decide whether the job will be done on-site or by an outside contractor. For example, some organizations will rebuild electric motors on-site, if the job is limited to bearing replacement, but contract the job out if a rewind is required.
If the decision is the outsource the rebuild job, it's appropriate to conduct a good external cleaning of the machine and stage it for pick up in an area that protects the item from further degradation. If the item is being rebuilt in-house, conduct a thorough cleaning and prioritize and stage the parts to move over to the cleanroom rebuild shop. Some disassembly and precleaning on the dirty side of process is typically required before a part or component moves over to the cleanroom rebuild shop. Be sure to stage those parts and components in areas that are free of vibration and sources of contamination to prevent further degradation, and then send any discarded parts to scrap.

PEFORMING PRECISION CLEANROOM ASSEMBLY
Several years ago, I worked with a client that had a large population of Goulds 3196 pumps. Analysis of failure data revealed those that were purchased new lasted a much longer than those rebuilt onsite. It all came down to precision, though. The rebuild shop was filthy. Rebuild instructions didn't specify methods for precision bearing fit-ups. Bills of materials (BOMs) for the rebuilds didn't exist. Threaded-fastener size, grade, torque values, and required thread lubricant weren't specified. Pumps going through the rebuild process were not dynamically balanced. Flushing and other lubrication practices weren't specified or executed. In essence, the pump-rebuild process was completely lacking in precision and costing the company a lot of money. Here's a simple checklist to support a cleanroom precision rebuild:
♦ Safety and job risk analysis (JRA)
♦ Correct bill of materials
♦ Required tools for precision rebuild
♦ Documented repair/rebuild procedures
♦ Drawings, images, P&ID, etc.
♦ Fit, tolerance, quantity and quality details in instructions
♦ Focus on precision with FLAB:
Fasteners
Lubrication, including flushing
Alignment
Balance
♦ Post rebuild testing, acceptance criteria and quality assurance requirements
♦ Return to inventory and precision storage (if not immediately returned to service).
By separating the dirty and clean parts of the process, creating a cleanroom assembly environment and implementing the precision fastener, lubrication, alignment and balance (FLAB) practices, the company in question greatly improved the life and reliability of its rebuilt pumps. The effectiveness of these practices isn't limited to pumps, however. You'll see similar results for gearboxes, fans, electric motors, blowers, and other critical equipment assets.

MANAGING REBUILT PARTS/COMPONENTS
Here's where everything comes together. Once you've completed a precision rebuild in a cleanroom environment and conducted any performance tests, transfer the rebuilt parts to the main warehouse, which also must be kept clean, temperature-controlled, and free of vibration to prevent shelf degradation. I prefer to minimize the geographical distance between the failed-parts-handling area, the cleanroom precision parts and components rebuild shop area, and the general warehouse to reduce logistical issues and transfer costs.
The warehouse will be the source of new parts and materials required for precision rebuild and the cleanroom precision rebuild shop will feed rebuilt components that are ready for service into the warehouse. In all aspects of the process, observe the 5S Principles of Sort, Sequence, Shine, Standardize and Sustain, First-in, First-out (FIFO) inventory practices and other storeroom and material-handling best practices that I've discussed in The RAM Review (see the following link). Additionally, be sure to enforce precision practices for components that are rebuilt by outside contractors.
---
Click Here To Read The Nov. 19, 2019, Article
"Get Things 'Right' With MRO Storeroom Best Practices"
---
THE BOTTOM LINE
We depend on countless rebuilt parts and components to deliver process reliability in our plants and facilities. Unfortunately, it's rare to see personnel actually following precision-rebuild practices at sites.
Yes, it takes some work to implement the practices I've suggested here. But it's not hard work. And it's certainly not mysterious work. Most important, though, the return on investment can be very impressive.TRR
---

ABOUT THE AUTHOR
Drew Troyer has over 30 years of experience in the RAM arena. Currently a Principal with T.A. Cook Consultants, he was a Co-founder and former CEO of Noria Corporation. A trusted advisor to a global blue chip client base, this industry veteran has authored or co-authored more than 250 books, chapters, course books, articles, and technical papers and is popular keynote and technical speaker at conferences around the world. Drew is a Certified Reliability Engineer (CRE), Certified Maintenance & Reliability Professional (CMRP), holds B.S. and M.B.A. degrees, and is Master's degree candidate in Environmental Sustainability at Harvard University. Contact him directly at 512-800-6031 or dtroyer@theramreview.com.
---
Tags: reliability, availability, maintenance, RAM, precision maintenance, supply chain, fasteners, lubrication, alignment, balance, FLAB, vibration, machine design, spare parts, parts management