Process furnaces or heaters are critical components found in many petrochemical refineries. These large refractory-lined structures heat hydrocarbon product during the refining process. Performed properly, infrared inspections of furnace tubes can provide valuable data regarding tube condition and operating temperature.
FURNACE TUBE INSPECTION CHALLENGES
Process heaters are similar to steam boilers in their construction, except for the fact that hydrocarbon is passed through the firebox tubes instead of water. Safe operation requires those tubes to operate below their maximum operating temperature. Overheating of tubes can reduce operational life or lead to catastrophic failure.
Measuring tube temperatures is challenging for many reasons. Among other things, the tubes are frequently located away from inspection ports and often obscured by visually opaque flames. And high-temperature environments make contact measurements hard, if not impossible.
Under the right circumstances, infrared thermography can be used to generate qualitative and quantitative data on in-service heater tubes. Still, it can't be overstated: Infrared inspection of process furnaces or heaters is one of the most difficult tasks for thermal imaging and infrared radiometry. Accuracy in temperature measurement is paramount in such inspections, since many companies utilize infrared data to determine safe operating limits for in-service heaters.
The following images were taken through viewports on operating heaters.
---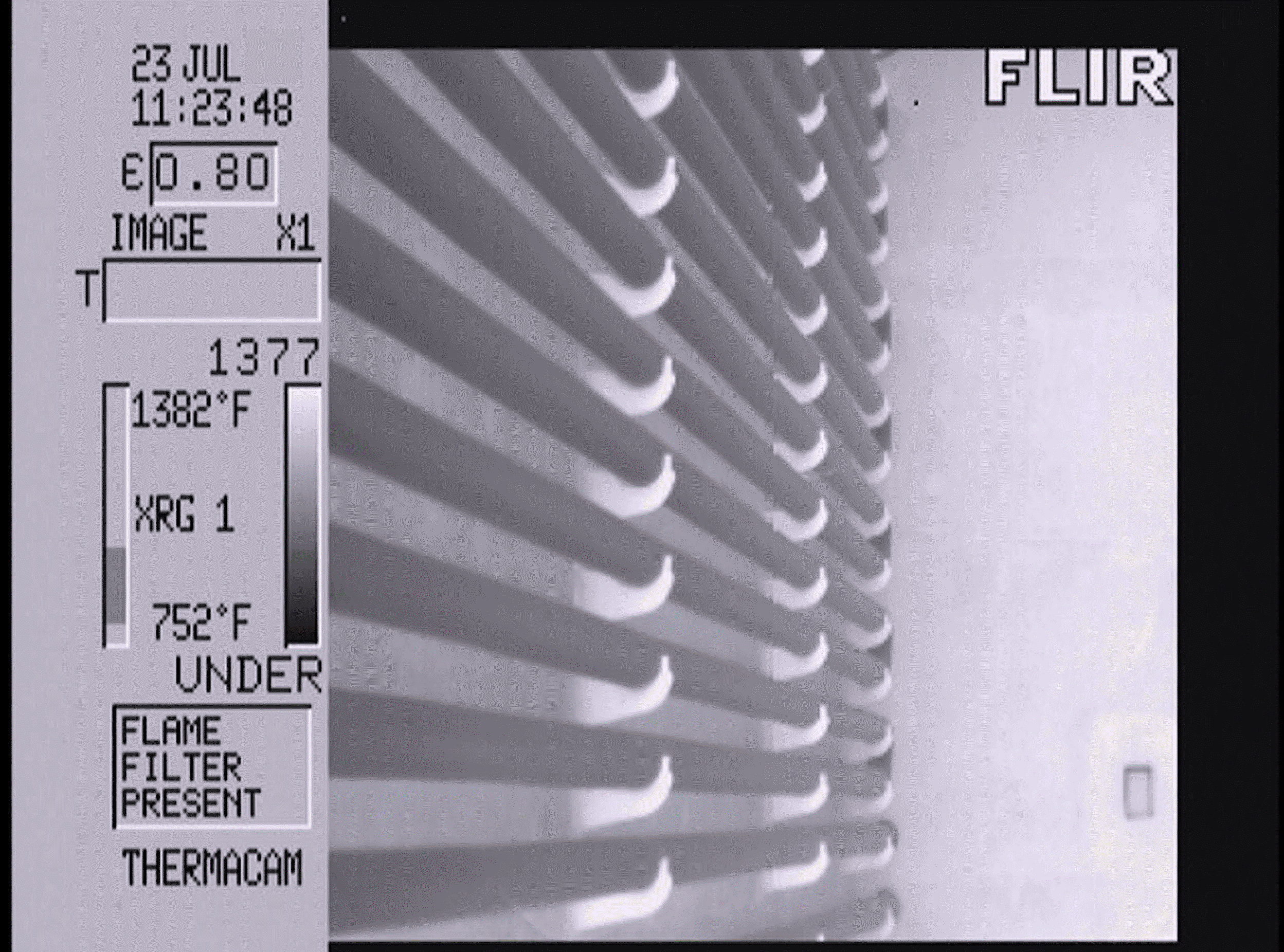 Thermal image shows normal thermal pattern.
Image taken through opaque flame.
---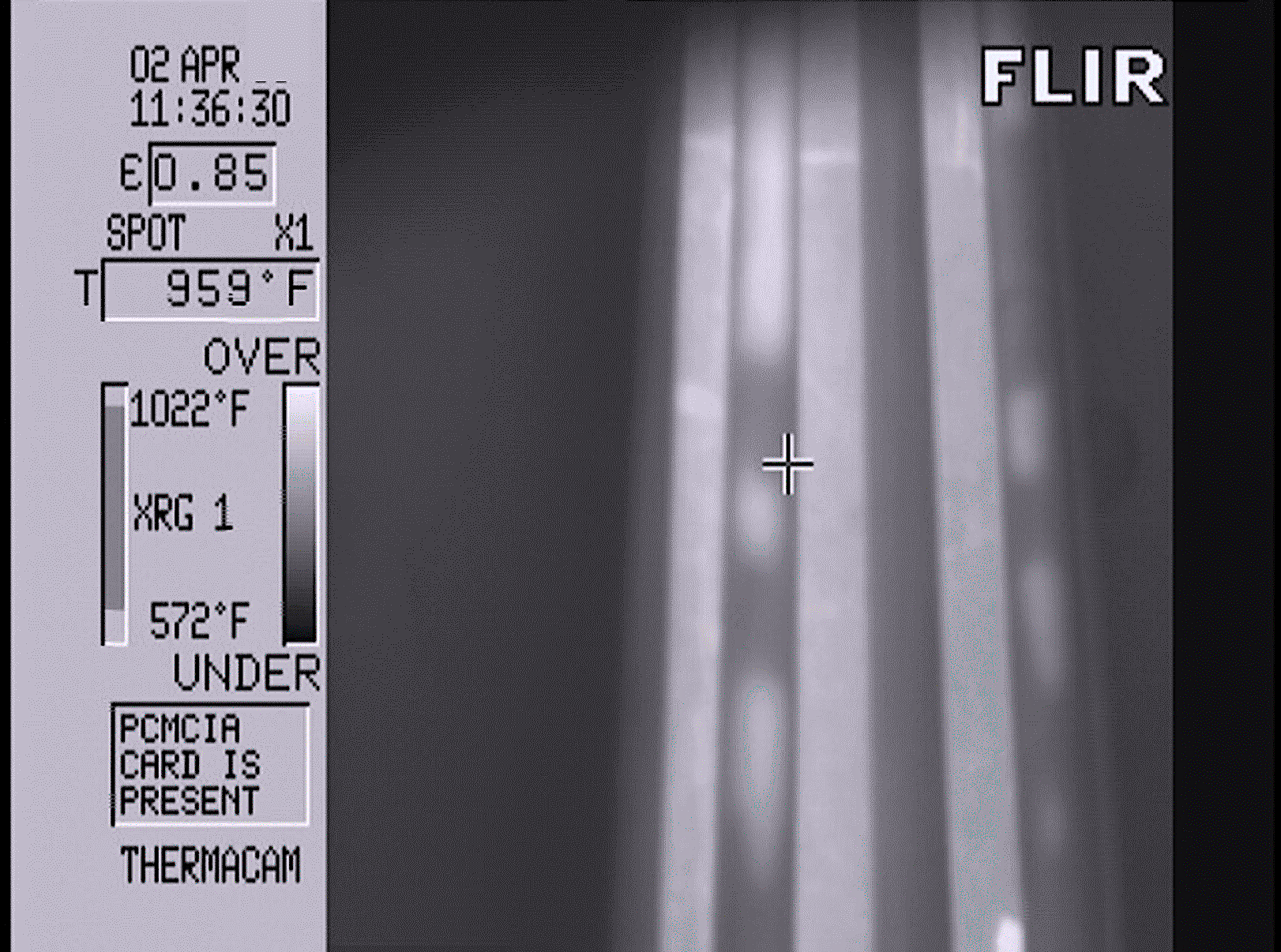 Thermal image shows hotspots caused by internal coke deposits.
Image taken through opaque flame.
---
MORE THAN  'POINTING AND SHOOTING"
Inspection of furnace/heater-tubes is not a "point and shoot" application. A thermographer who takes on this tough work needs to understand heater operation and heat transfer, as well as other issues pertinent to thermography. These issues include, but aren't limited to: infrared camera selection, including proper spectral response and spot-measurement size; imager calibration; use of filters, windows, and heat shields; calculating emittance and reflected temperature; equipment precision and accuracy; and how to obtain reliable reference temperatures to verify proper imager settings.
In addition, to help ensure accuracy in furnace-tube inspections, thermographers should be trained to at least Level II and, when possible, work with an experienced mentor until they have gained sufficient field experience.
More information on this subject is available in a free download at this link: Applications of Infrared Thermography for Petrochemical Process Heaters.
Infrared inspection of process-heater tubes is one of the applications covered in the Infraspection Institute Level II Certified Infrared Thermographer® training course. For more information or course schedules, visit www.infraspection.com or call (609) 239-4788.TRR
---

EDITOR'S NOTE:
This Article Is Based On The Sept. 27, 2021
"Tip of the Week"
From The IRINFO.org Website
CLICK HERE TO ACCESS IT
AND OTHER ARCHIVED TIPS
---

ABOUT THE AUTHOR
Jim Seffrin, CMRP, has been an Infraspection Institute Certified Infrared Thermographer since 1984. A co-founder of Jersey Infrared Consultants and a practicing thermographer with 35+ years of experience as an infrared consultant, he was appointed Director of Infraspection Institute in April 2000.  For information on a wide range of topics related to infrared thermography and associated training and certification, visit IRINFO.org and/or infraspection.com, or email jim@infraspection.com.
---

Tags: reliability, availability, maintenance, RAM, process furnaces, process heaters, infrared thermography, infrared cameras, thermographic imagers, imaging radiometers, infrared inspections, infrared temperature measurement, thermographer training
---