According to ABB, Zurich, its MegaFlex DPA uninterruptible power system (UPS) combines the highest efficiency with what is said to be among the smallest footprints available in the IEC and UL markets. The company's MegaFlex line targets those markets with power ranges of up to 1.5 and 1.6 MW, respectively.
Despite its small footprint (up to 45% smaller than some other offerings with equal power ratings for the IEC  version) the MegaFlex DPA is capable of reducing energy losses due to high efficiency converters of up to 97.4 %, adaptable to variable IT load.
---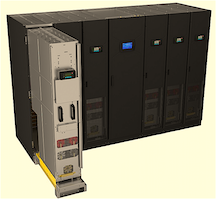 ---
A modular platform eases access and maintenance. Enhanced self-diagnostics reduce downtime and  mitigate risk from human error during start-up and maintenance phases. An intelligent predictive maintenance program allows greater planning and reduces service schedules throughout the product life cycle.