Savvy maintenance professionals know that the domain of knowledge in a personal library is an essential part of a complete toolkit. So, welcome to The RAM Review's inaugural "Book of the Month" column, in which. as the name suggests, once a month I preview a "toolkit-worthy" book for your consideration. This month's selection is from the field of lubrication.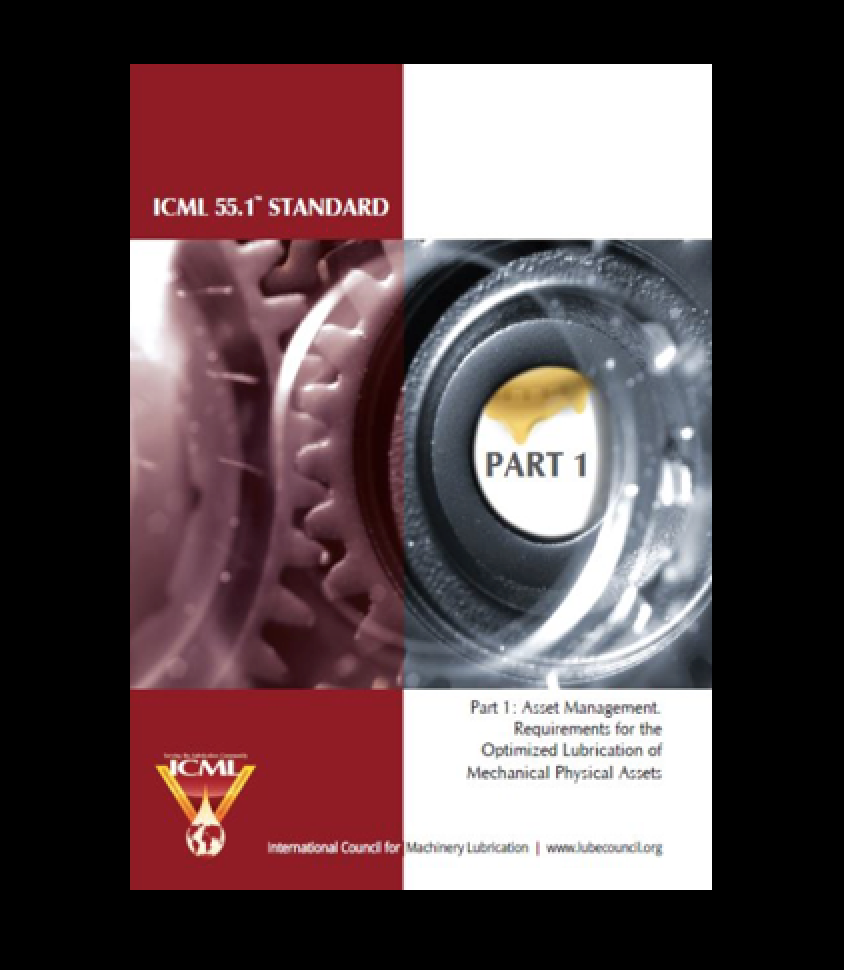 Book Title:
ICML 55.1 Standard Part 1:
Asset Management Requirements for the Optimized Lubrication of Mechanical Physical Asset
Author(s): ICML
Publisher: International Council for Machinery Lubrication (ICML), Broken Arrow, OK, USA.

ISBN #: N/A
Format: Paperback
Pages: 66
Release Date: April 2019
Cost: $175
Target Audience: Asset-management planners and practitioners who manage and maintain mechanical equipment requiring lubrication
Description: Strategically aligned with the ISO 55001 global asset management standard, ICML 55.1 acts as an enabling blueprint for the implementation of a best-practice lubrication-management program focused on the following 12 specific areas:
SKILLS: Job Task, Training, and Competency
MACHINE: Machine Lubrication and Condition Monitoring Readiness
LUBRICANT: Lubricant System Design and Selection
LUBRICATION: Planned and Corrective Maintenance Tasks
TOOLS: Lubrication Support Facilities and Tools
INSPECTION: Machine and Lubricant Inspection
LUBRICANT ANALYSIS: Condition Monitoring and Lubrication Analysis
TROUBLESHOOT: Fault/Failure Troubleshooting and RCA
WASTE: Lubricant Waste Handling and Management
ENERGY: Energy Conservation and Environmental Impact
RECLAIM: Oil Reclamation and System Decontamination
MANAGEMENT: Program Management and Metrics
Written collectively by an international team of 45 lubrication subject matter experts (SMEs), ICML 55.1 offers a detailed, practical consensus of lubrication-management systems and processes applicable to the effective management of lubricated physical assets.
ROI
Having a blueprint to follow helps the maintenance department better understand all of the elements that make up a successful lubrication -management program. An industry first, the ICML 55.1 Standard can be used as a lubrication-program audit document and/or implementation guide to best practice. The book can be purchased directly from the ICML at www.lubecouncil.org.TRR

ABOUT THE AUTHOR
Ken Bannister has 40+ years of experience in the RAM industry. For the past 30, he's been a Managing Partner and Principal Asset Management Consultant with Engtech industries Inc., where he has specialized in helping clients implement best-practice asset-management programs worldwide. A founding member and past director of the Plant Engineering and Maintenance Association of Canada, he is the author of several books, including three on lubrication, one on predictive maintenance, and one on energy reduction strategies, and is currently writing one on planning and scheduling. Contact him directly at 519-469-9173 or kbannister@theramreview.com.

Tags: lubrication, standards, ISO55001, ICML, optimization